Scuba4Good Music Fest 2022
Friday, July 29th from 4:00 PM to 9:00 PM at Plunge Beach Resort
The Scuba4Good Music Fest was established in 2016 and is now the single largest fundraiser for adaptive diving in South Florida. Funds raised at this annual event are used to fund our various initiatives including scholarships and dive trip subsidies for adaptive divers, adaptive dive buddies and instructors. This is a free family-friendly music festival supported by our sponsors. Festival attendees are encouraged to support our cause by making donations, buying t-shirts and purchasing raffle tickets.

This year's music festival will be held on the beach behind the Plunge Beach Resort in Lauderdale-by-the-Sea, Florida. There will be food and drinks available for purchase and festival attendees are invited to brings beach chairs and blankets to sit on.
Plunge Beach Resort
4660 El Mar Drive
Lauderdale-by-the-Sea, FL 33308
Free Parking – The town of Lauderdale-by-the-Sea will provide free parking along the north side of El Mar Drive during the event.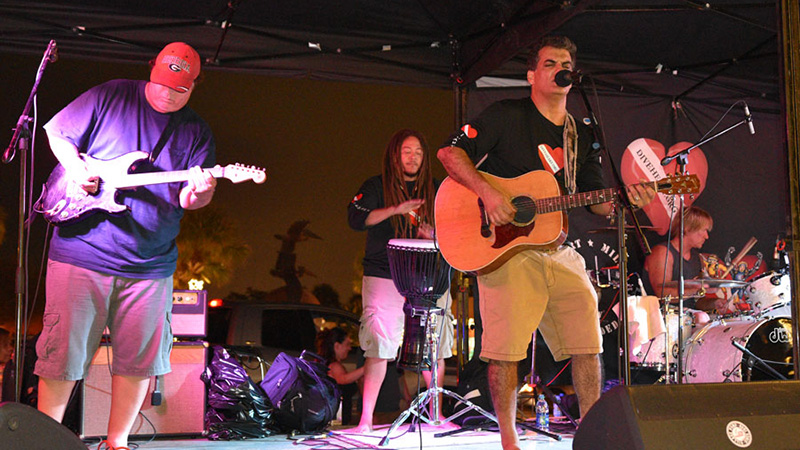 The Weedline is a rock and roll party band that plays classic rock, southern rock, modern rock, country, blues, funk and originals that draw from all the above. The sound can be thought of as "rock and roll with an acoustic soul." Think of The Beatles and the Rolling Stones sharing the bill with Tom Petty and the Blues Brothers. Count on lots of surprises since this band loves performing their favorite songs for thirsty audiences every week in South Florida.